Service Area
A Trusted Fencing Contractor Serving Northern Massachusetts and Southern New Hampshire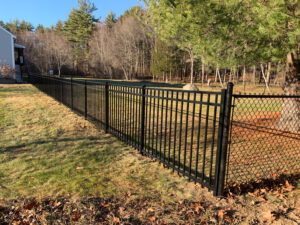 Lincoln Fencing is a leading fencing company that is committed to delivering exceptional fencing solutions for both commercial and residential customers. With over 15 years of experience, we have established ourselves as a trusted name in the industry, providing top-quality installations and unparalleled customer service. 
Commercial and Residential Fencing Solutions
We offer a wide range of fencing options to meet the diverse needs of our clients. The types of fencing we offer include vinyl fencing, wood fencing, aluminum fencing, and chain link fencing. Whether the goal of your project is to increase privacy, boost security, or add beauty, we have the right fence to suit your needs. 
Service Area of Our Fencing Company
We are located in Epping and serve Northern Massachusetts and Southern New Hampshire, including the following cities: 
Massachusetts 
New Hampshire 
Choose Us as Your Local Fencing Contractor
Our team of skilled professionals is familiar with the local landscape and building regulations, ensuring that your fencing project is completed efficiently and in compliance with all necessary codes. Choose Lincoln Fencing as your trusted fencing contractor and experience the difference that our expertise and dedication can make. We are a family-owned and operated business, and our commitment to honesty, reliability, and top-quality work is at the core of everything we do.  
Contact Lincoln Fencing today to learn more about our fencing company and how we can meet the needs of your commercial or residential property in Northern Massachusetts or Southern New Hampshire.